Maryland Advanced Research / Simulation Suit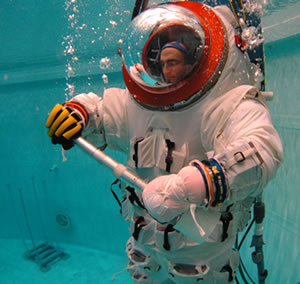 The Maryland Advanced Research/Simulation (MARS) Suit is a low-cost test bed for extravehicular activity (EVA) research, providing an environment for the development and application of biomedical sensors and advanced EVA technologies. It is used in the Neutral Buoyancy Research Facility, allowing students and researchers to gaining more experience with human-telerobotic interactions in an integrated EVA worksite. MARS Suit is currently in its second generation (MX-2) design.
The body of the MX-2 suit analogue consists of a hard upper torso of hand-crafted resin and fiberglass with integrated hemispherical helmet and rear-entry hatch. Three-layer soft goods (urethane-coated nylon pressure bladder, nylon restraint layer, and thermal/micrometeoroid garment with integral ballast system) are used for the arms and lower torso. Designed for human use at 3 psid, the MX-2 provides (in a coarse sense) the outer envelope and joint restrictions of operational pressure suits, while providing realistic visual and audio environments and a "dry" interior for instrumentation.
Initial tests and applications of MX-2 include correlation of MX-2 performance in EVA tasks to both neutral buoyancy and space flight performance in Shuttle suits, tests of various approaches to EVA/robotic cooperation, and development of a virtual reality visual environment integrated into neutral buoyancy simulations. Pictures from some of the many manned MX-2 dive operations can be found here. Check out a great video about the suit here!  Click here for more information about MARS Suit
---
Project advisor: Dr. David Akin
Lead graduate student: Shane Jacobs 
Graduate Team Members: 
Undergraduate Team Members: Adam Mirvis, Ali Husain, Heather Bradshaw
---
Acknowledgements
MARS MX-2 is under development as a student project under discretionary funding at the University of Maryland Space Systems Laboratory, part of the Aerospace Engineering Department and the A. James Clark School of Engineering. Special thanks to all the former students, primarily Jeff Braden, whose many years of hard work and dedication have made this project what it is today. Also thanks to Dr. Claudia Ranniger, Lauren Shook, Melissa Pelton, John Van Eepoel, Nils Nelson, James Cotugno, Mark DeLevie, Christiana Kuhn, Alice (Kuo-Chia) Liu, Paul Samuel, Greg Holden, Beth Sorenson, Maria Maiolatesi, Darrell Gullatt, Sachin Karanis, Kerin Thornton, Kathryn Catlin, Kristin Kirk, Megan Meehan, Agnieszka Koscielniak and Elizabeth Benson.. Very special thanks to current undergraduates Ali Husain, Adam Mirvis and Heather Bradshaw. Further thanks also go to NASA Ames Research Center and ILC Dover for their help and support.